Becoming a voice actor requires several important elements: an adaptable and good voice, a willingness to continuously improve, and guidance to develop your skills. We're hosting a workshop with none other than Zaid Mounzer.
Learn from him, improve your vocal talents, and become a voice actor for television commercials, animated films, and animated television series today. Keep reading to learn more!
Like any form of acting, you'll need to invest in honing your voice acting skills. Professional voice actors must know that they can attend voice-over actor workshops to improve their skills.
These classes are not only beneficial but can also be the defining factor in your career. Many voice-over actors have attended workshops from Zaid and can now mimic character voices and work with casting directors more effectively.
If you want to aspire to be among successful voice actors, this voice-over acting workshop is hosted at the Dubai Media City Business Central Towers, Block B, 8th floor.
About Ziad Mounzer
Ziad Mounzer is a highly skilled director, voice-over actor, and sound engineer known for his diligent work in media production. With decades of experience in professional Arabic voice-over, Ziad Mounzer is a respected figure in the industry.
He's lent his distinctive voice to a wide range of content, from documentaries and commercials to educational materials. Ziad has also worked with Lebanon's Image Production House for dubs and has contributed his talents to popular products like the video game "Tom Clancy's The Division."
His dedication to his craft, attention to detail, and ability to bring authenticity to his voice work make him a trusted name in Arabic voice acting. Whether narrating documentaries or voicing animated characters, Ziad Mounzer's passion for sound and storytelling shines in every project he takes on.
Notable Projects
Ziad's voice acting talent is extremely impressive, with notable roles including:
Clock King in Batman: The Animated Series Argit
Paradox in Ben 10: Omniverse
Aaron Fox in a special episode of Lego Nexo Knights.
But that's not all; he's even added his voice to "Mr. Bean."He has also become an official voice actor for prestigious organizations, including National Geographic Abu Dhabi, BBC Arabic, Discovery, Al Jazeera Documentary, and many other esteemed institutions.
Golden Opportunity for Aspiring Voice Artists
Learning from Ziad Mounzer is an opportunity that aspiring and seasoned voice-over actors alike should never miss. His extensive experience and remarkable success in the industry offer valuable lessons for anyone looking to excel in the world of voice acting. Ziad's diligent approach to his work and ability to infuse authenticity into his characters serve as a masterclass in voice acting. He demonstrates that attention to detail and a genuine passion for storytelling can set you apart in a highly competitive field. Ziad Mounzer's mentorship is indeed a once-in-a-lifetime chance to glean insights from a true voice-over genius.
Who Can Support You In Voice Acting? 
Support in the world of voice acting can come from various sources. As a newcomer, consider becoming part of the vibrant voice-over community. Join online groups or forums where you can connect with fellow voice actors, some of whom might be in your area. Attending voice over workshops is also a great idea to improve your skills
You will see many top-notch voice actors speak, and these connections will become a part of your network and serve as mentors and valuable support resources. In addition to these voiceover artists, you can further enhance your vocal skills by seeking professional services and recording samples you can distribute to talent agencies.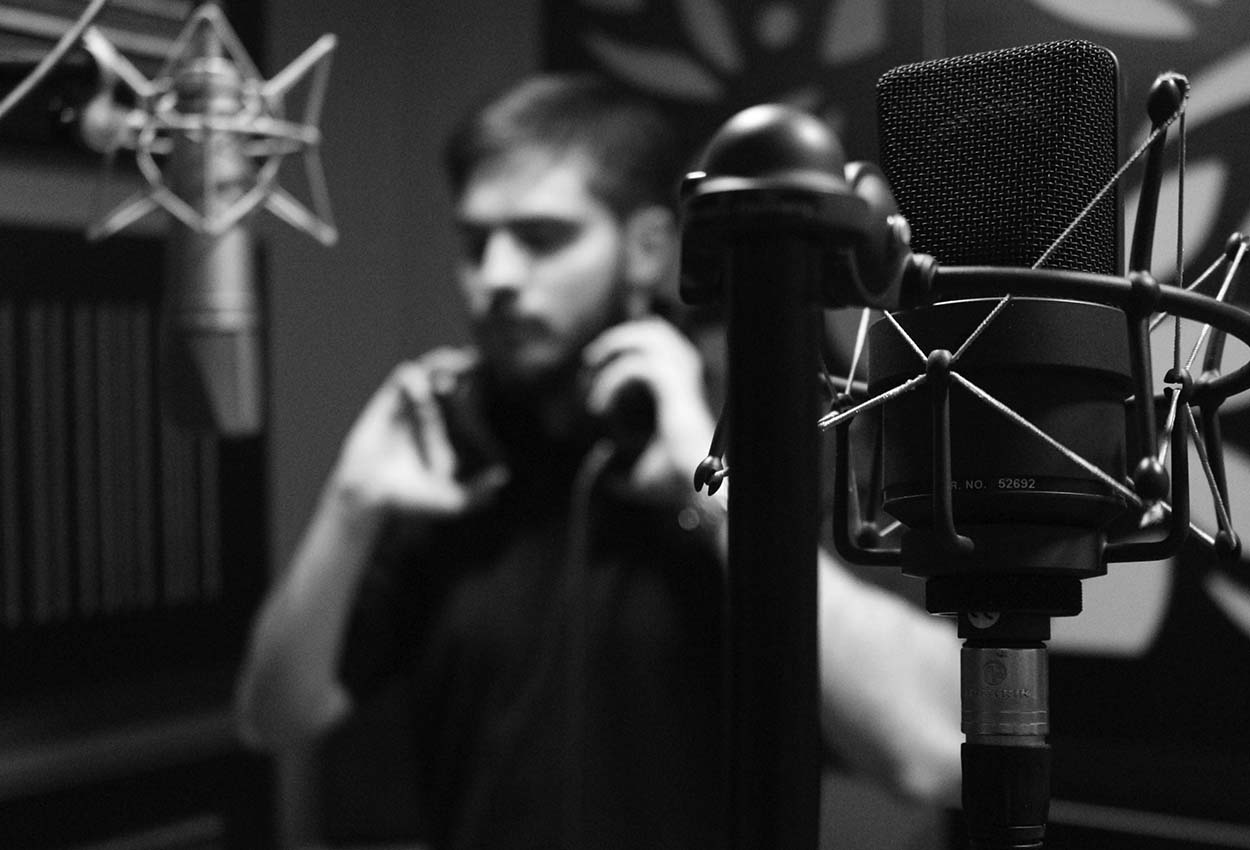 Why Should You Attend the Voice Actor Workshop?
This workshop also holds immense significance, especially in today's thriving voice-over industry, where opportunities are abundant and your skills can truly shine. The voice acting industry offers an exciting career path that you can pursue, either full-time or part-time, and allows you to be your own boss.
You'll find voice acting everywhere, from animated characters and video games to audiobooks. In 2023, the voiceover industry is experiencing an unprecedented boom, thanks to the rise of digital content across various platforms. This surge has made voice acting a thriving and relevant career choice, opening up opportunities even for beginners. What is even more intriguing is the fact that highly reputed companies in Dubai offer a fantastic starting point for your voice-acting journey. By attending the workshop and improving your skills you can benefit from the:
Surge in Digital Content Creation
The surge in digital content creation has unsurprisingly led to a higher demand for voice acting. This demand for authentic voices is becoming a norm rather than a passing trend, promising a stable future for the industry. If you navigate your voice-acting career wisely, you can expect to land voice-acting jobs more consistently.  However, you need to work on your technical skills and work on your vocal cords to expand your vocal range. This can be done by participating in workshops like the one BKP is offering to acquire the knowledge required for developing and honing these invaluable skills.
Creative Opportunities
Another fantastic aspect of a successful voice acting career is the sheer range of roles and creative chances it provides. You can step into the shoes of sassy animated characters, a menacing video game villain, or a refined audiobook narrator – often all at the same time! What better option than to learn from the very best, Ziad Mounzer, who has done such numerous projects himself and will provide you with that right oomph to boost your career.
Flexible Timings
Voice acting offers incredible flexibility that suits individuals with unpredictable schedules or those who love to travel. You can work from virtually anywhere in the world; all you need is your recording equipment. Just set up a sound booth in your home studio and recording quality audio is no problem at all.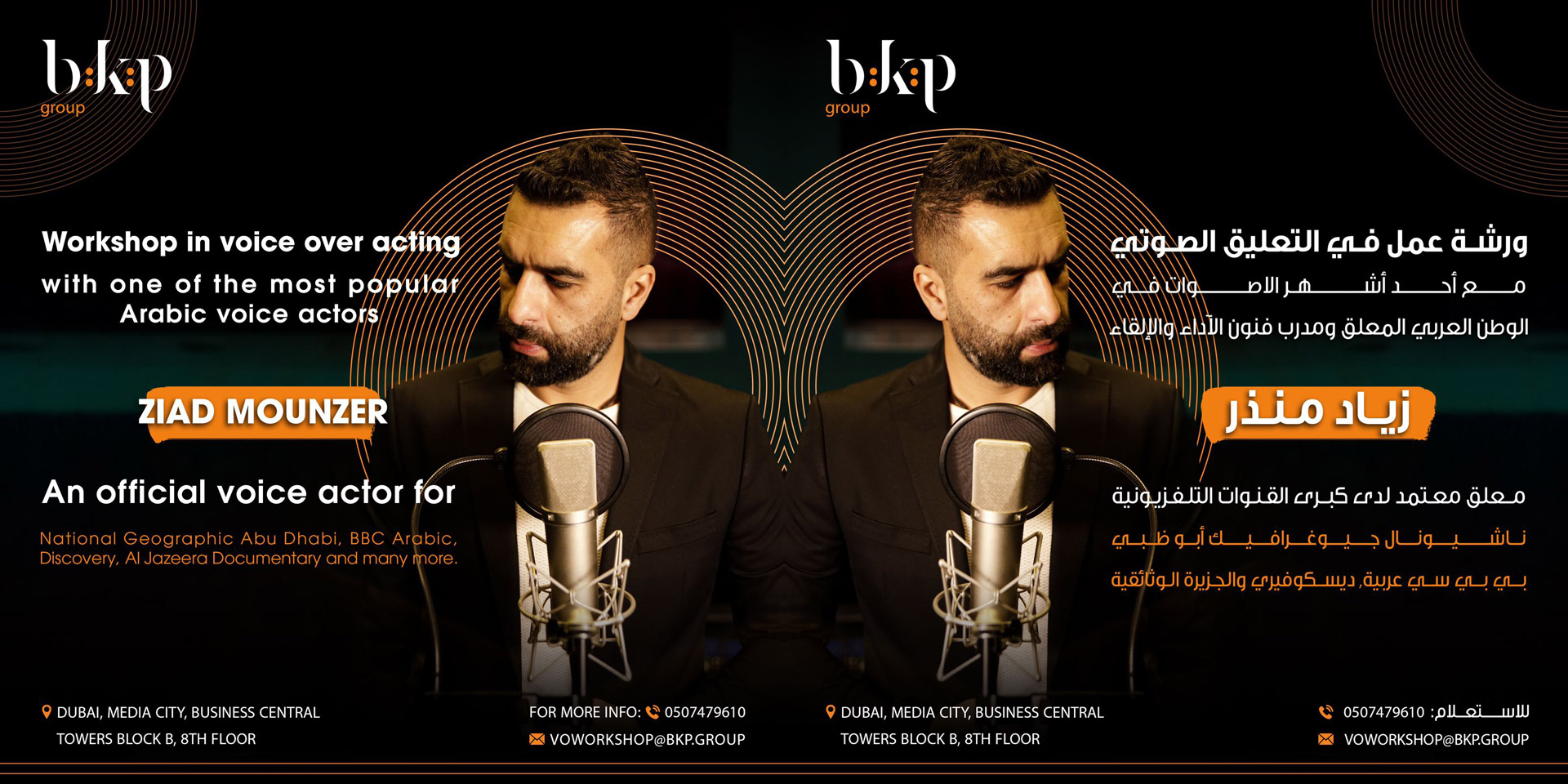 Want To Attend the Voice Actors Workshop? 
Attending workshops and working on your vocal cords can propel you to unparalleled excellence. At BKP, we take pride in hosting experts like Zaid Mounzer, who share their journey and some help tips that can help others excel in their profession.
Make a commitment to attend the workshop today! Hone your craft and improve your skills with expert assistance from Zaid and become a successful voice actor. Get in touch with us for more information,  call 0507479610 or email voworkshop@bkp.group
Within this workshop, you will get access to 5 x 2-hour lectures as well as a showreel produced for you at the end. You will get all of this for just 2500 AED.
See below Ziad in action: